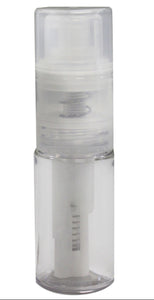 Dust Pump
Regular price
$3.99
$0.00
Unit price
per
Spray your Disco Dust with ease using our dust pumps!
This Dust Pump Dispenser allows you to quickly apply a variety of coloring dusts. Hold the pump close for concentrated coverage and farther away for a light dusting.
These pumps are great for Disco Dust, Luster Dust and Jewel Dust.
3.375" h, 0.9375" w, 0.9375"d
---